October 22nd Re-Opening plans
Everything you need to know about our reopening plans this for October 22nd 2021.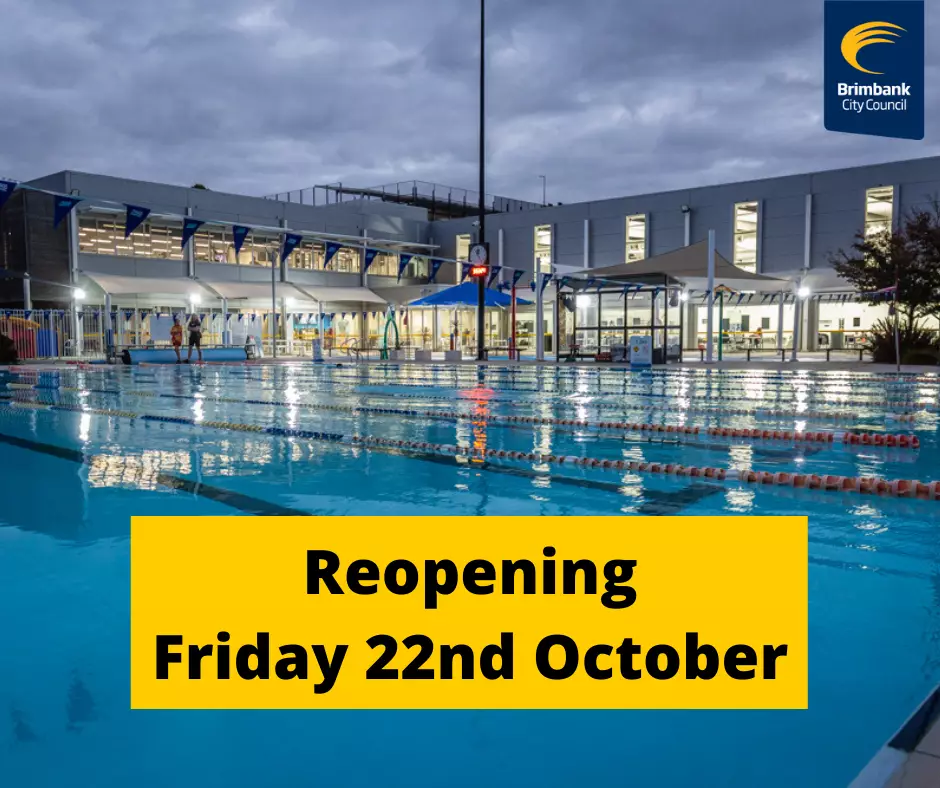 With our Outdoor Pool at Sunshine Leisure Centre due to open on Friday 22nd October 2021, we have compiled a table of info and an easy to follow list of Frequently Asked Questions (FAQs) to help share all important information relating to these plans.
If you have a query we have not answered, email us at slc@brimbank.vic.gov.au and we will be able to assist. With minimal staff on site answering phone calls, the quickest way to contact us if by the email address above.
When: 6:00am, Friday 22nd October 2021
Opening Hours: Monday - Friday 6:00am - 9:00pm
Weekends: 8:00am - 5:00pm
Whats opening: Outdoor Pool - 50 people maximum, No bookings required
Outdoor Training - 5 participants per session, booking essential
Entry Costs: Outdoor Pool $5.00 flat rate, Outdoor Training $9.90 flat rate
Toilets: Open
Areas still closed: All indoor pools, spa, steam room, health club, 24 hour gym, creche, lockers, change rooms and showers are all closed
General FAQs
What's opening on Friday October 22nd 2021?
From 6:00am Friday Oct 22nd 2021, our Outdoor Pool at Sunshine Leisure Centre. This is in addition to the outdoor training session that we will continue to run. All indoor facilites will remain closed including change rooms and showers. Toilets will be open for use.
What happens to my membership?
During this stage of the reopening, all memberships will remain on suspension and no membership fees will be charged. Outdoor pools and outdoor training will be charged at casual rates of $5.00 for the pool and $9.90 for outdoor training.
What if I'm not vaccinated?
In accordance with state government road map, From the 22nd of October if you are 16 years or older and not fully vaccinated you will not be able to enter the centre.

What if I'm partially vaccinated?
From the 22nd of October if you are 16 years or older and not fully vaccinated you will not be able to enter the centre. You will need to wait until you have had your 2nd dose and have received your COVID vaccination certificate.

When will unvaccinated patrons be able to enter the facility?
This is yet to be determined. This will be determined by government advice.

What are the mask requirements?
Masks must be worn except for when engaged in any strenuous physical exercise such as running, jogging, swimming or cycling or when consuming food, non-alcoholic drink or medicine.

What do I need to do to show proof of vaccination?
You will need to display your COVID Vaccination certificate, which can be accessed via the MyGov website. You can also link this to the Services Victoria App so that when you check in it displays for staff to verify. More detail can be found here https://service.vic.gov.au/covid-19/add-covid-19-digital-certificate.

What if I don't have a smart phone to display my vaccination status?
You can print your COVID-19 Vaccination certificate from the MyGov website or call Services Australia on 1800 653 809 and ask them to send your Immunisation History Statement to you. It can take up to 14 days to arrive in the post.

What if I have a medical exemption?
You may receive a medical exemption if you are unable to be vaccinated because you:
have a medical contraindication to COVID-19 vaccines, or
have an acute medical illness, including COVID-19 infection for up to 6 months (or earlier if the medical practitioner specifies an earlier date)
These medical exemptions are determined by ATAGI clinical guidance. You will need evidence from an authorised medical practitioner about this - such as a medical certificate or a letter.

When is the first direct debit after reopening?
The first direct debit will be run on Thursday November 11. Any credits applied from previous facility closures have been applied for this debit. Any fees charged on this day are accurate.

What if I am a rehab or 12 month up front member?
Your end date for your membership has been extended taking into account the closure days.

What if I want to cancel my membership?
Email slc@brimbank.vic.gov.au and we will action your request

I want to suspend my membership beyond when we reopen?
Email slc@brimbank.vic.gov.au and we will action your request. No charge suspensions will be offered until December 31st 2021.

Will the Spa and Steam room require tickets when it opens?
Yes, please see one of our lifeguards who will be able to provide an access ticket to the steam room and spa.

Are there any bookings which may impact availability of space?
We do have a number of swim club and squad programs running between 6pm-9pm Monday - Friday. There will be limited public access space during this time.

When will the crèche open?
We are planning to reopen the crèche in term 1 2022.
Swim School FAQs

For Pre Squad and Squad, what do we do if we want to return for the outdoor pool sessions?
If you do wish to return early email us at swimschool@brimbank.vic.gov.au and we will reactivate your membership. All Pre Squad and Squad member will stay on suspension until we return indoors on November 5 unless you let us know you want to return early.
What happens to my membership if I am not fully vaccinated by November 5 and cannot bring my child (student) to lessons?
Please email us at swimschool@brimbank.vic.gov.au and we will assist you on a case by case basis.
Do students under the age of 16 need to be vaccinated?
No, only eligible patrons 16 years and over must be vaccinated and show proof of vaccination upon entry.
Can a guardian drop off a student for lessons out the front of the centre if the guardian isn't fully vaccinated so the student doesn't miss out?
ONLY if the student is 10 years or older. For students under 10 years of age, a parent or guardian over the age of 16 must accompany the student inside the facility to their lesson.
Can we swim before and after lessons?
As of when we resume the full Swim Lesson program you will be able to swim before and after your lesson. We would recommend swimming in the outdoor pool as the cap of patrons is far greater than indoors. There may be times where we reach our facility limit indoors and have to ask all indoor casual swimmers to swim outside so that no one misses out on their lesson.
When does Term 4 end?
The last day of Swim Lessons for Term 4 is Sunday 19th December. A Swim Lessons Calendar can be found here.