Sunshine Leisure Centre - voted number 1 in VIC
Sunshine Leisure Centre named as Life Saving Victoria's, Swim and Survive Partner of the year for 2021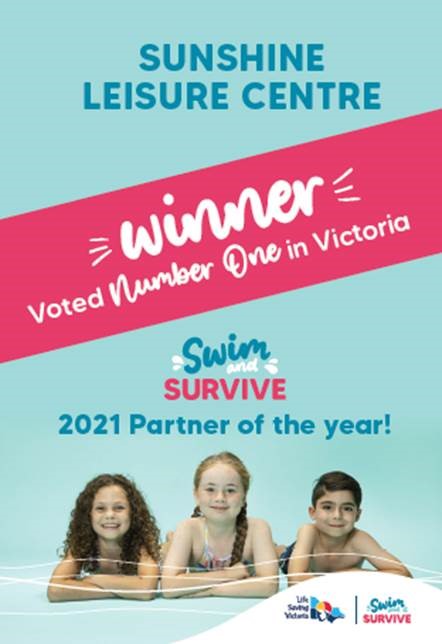 Congratulations to Sunshine Leisure Centre for being named as Life Saving Victoria's, Swim and Survive Partner of the year for 2021.
Royal Life Saving's Swim and Survive program ensures children all over Australia get the very best swimming and water safety education backed by over 125 years of experience in swimming and lifesaving, based on evidence-based research.
The Swim and Survive program is a national swimming and water safety initiative of the Royal Life Saving Society that seeks to increase swimming and water safety skills of Australian children in order to prevent drowning and increase participation in safe aquatic activity.
Sunshine Leisure Centre attributes the recognition to their visionary approach to aquatic programs. This has led to new programs being introduced such as Aqua Playgroup for new parents and bubs, Swim Fit for swimmers keen to improve their technique in a social environment and the Holiday Head Start Program; a complimentary program intended to help students in maintaining their swimming skills over the holidays. In addition, Sunshine Leisure Centre has made a commitment to more affordable and accessible swimming lessons with the increase of concession rate from 10% to 15% discount.
Sunshine Leisure Centre has been incredibly flexible and agile in its response to the pandemic and this strategic and flexible approach resulted in creating more affordable swimming lessons for our community; resulting in a 64% increase in learn to swim enrolments.
Congratulations Sunshine Leisure Centre on your outstanding achievement.