What are (whole) grain cereals?
Learn more about whole grain cereals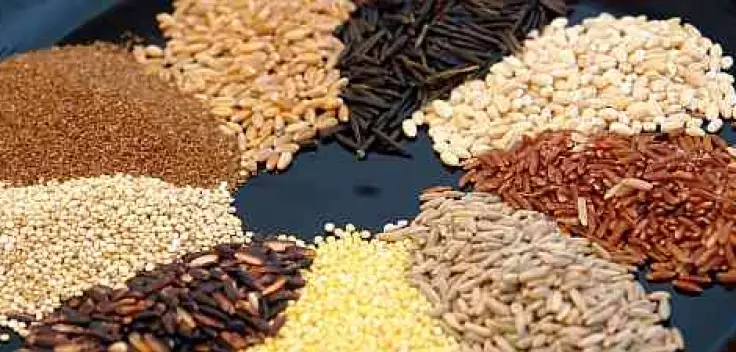 Learn more about whole grain cereals
Food originating from grains include those from wheat, oats, rice, barley and corn. They range from high-nutrient dense wholegrain breads and cereal foods such as oats, to non-wholegrain low-nutrient dense grains such as white rice, white bread and pasta. When planning our diets, we should be aiming to replace lower-density nutrient grains for high-nutrient dense grains i.e replacing white rice with brown rice.
What's the difference between wholegrain and non-wholegrain foods?
Wholegrain cereals are made up of three parts: bran, germ and the endosperm. The bran and germ contain many different nutrients which are good for us such as: vitamin E, folate, omega-3 and other vitamins and minerals.
When grains are processed to produce non-wholegrain foods (such as white rice, white bread and flour). During processing, the bran and germ layers are removed leaving only the endosperm layer which mostly just contains starch. Compared to all the other things found in the bran and germ layer, starch provides little to no nutritional value. Excessive amounts of non-wholegrain foods can lead to diabetes.
In short, try to replace non-wholegrain (aka refined cereals) with wholegrain alternatives! A simple way we can do this is to choose brown rice over white rice.
What kind of diseases can wholegrains protect us against?
Wholegrain foods are protective against heart disease, type 2 diabetes and obesity.
Whole grain foods also contain lots of fibre to help us move food through our bowels! The results are softer and larger stools (faeces or poo) and more frequent bowel actions. This provides a good environment for the beneficial bacteria in our bowels.
A high fibre diet, which we can get by increasing wholegrain intake, has also been shown to reduce colorectal cancer in adults. 3 servings of wholegrains daily (90g of wholegrain or 4 slices of wholegrain bread) may lead to a 20% reduction in the risk of colorectal cancer!
How much wholegrain cereal should I eat?
The Australian guide to Health Eating recommends adults aged 19-50 years eat 6 serves of cereal foods daily, most of which should be wholegrain.
Making changes in our diets can be hard. Making changes to the type of grains that we eat can be even harder, especially when white bread and white rice are so delicious!
Try to make small changes and work your way up to a goal. Try swapping out a white loaf of bread for a wholegrain loaf every 2 weeks, or make the switch from white rice to brown rice for every second meal with rice. Remember, small gradual steps can go a long way!
Source:
https://www.betterhealth.vic.gov.au/health/HealthyLiving/cereals-and-wholegrain-foods